Editorial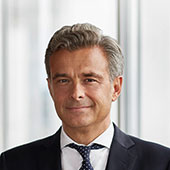 Philippe Oddo, General Partner ODDO BHF
Dear clients, employees, partners and shareholders,
2020 turned our lives upside down and forced us to adapt far more than we could have imagined. Uppermost in our minds are those of you who have lost a loved one to the coronavirus. Our thoughts also go out to those who found the lockdowns particularly trying due to isolation or difficult family or work circumstances. I must once again express thanks for the unfailing responsiveness of all of the Group's teams, who have displayed great solidarity with each other and quite exemplary professionalism.
In business terms, 2020 ended as positively for the Group as it could have in the circumstances.
The robust performance of our funds and portfolios was welcomed by our clients and earned us numerous accolades. We continued to innovate in our products and services, with new unlisted asset investment solutions and the development of decision-making tools based on artificial intelligence, among other things. We formed tie-ups with new European partners in our equity brokerage functions: ABN AMRO in the Netherlands and BBVA in Spain. We consolidated our presence in Switzerland by acquiring Landolt & Cie.
Of course, there is not enough space here to give an accurate picture of everything that our teams achieved thanks to the trust that the Group's clients place in us, and we thank them very sincerely.
The financial results are satisfactory, and enable us to go on investing in the future on a sound footing. Our priorities for 2021 will build on our efforts to strive for quality in the way we fulfil our clients' instructions.
Now that we have finished investing in our Franco-German IT platform, we can roll out ambitious digital tools across the entire Group and bring our German and French teams closer together in operational terms.
Unlisted assets are a strategic area of focus. We would like to further strengthen our private equity, investment capital and private debt offering. We reaffirm our commitment to sustainable and responsible long-term investment solutions.
Finally, all of the focus that we put on our teams, whose talents and ability to work together make the company as strong as it is, continues to be of key importance.
Yours sincerely
Philippe Oddo, 
General Partner