Presentation of the Group
CSR-Report
Editorial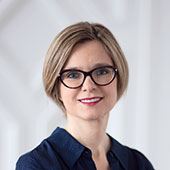 Dear all,
Across our entire range of asset management, private banking and investment banking activities, our market experts (analysts, asset managers and wealth engineers) share their vision and convictions with clients and partners on a daily basis by producing articles, holding meetings and organising events.
The communication and marketing teams in France and Germany work closely with these experts to promote their expertise and disseminate their messages across all media forms, in keeping with the group's values: Entrepreneurial, Independent, Unique, Stable, Driven.
We are constantly endeavouring to optimise our clients' experience, capitalising on the digital technologies and innovations which have brought such radical improvements in this domain.We would be delighted if you took a look at this website to find out more about our unique position as an independent Franco-German financial company. You will find news articles, an overview of our various businesses, a brief history of the company and, of course, employee testimonials.
Thank you for your interest in our group. If you have any questions, please do not hesitate to contact us directly or our press office.
Kind regards,
Céline van Steenbrugghe
Communication and Marketing director